Bu yıl 79. kez düzenlenen Venedik Film Festivali'nde Altın Aslan kimin oldu?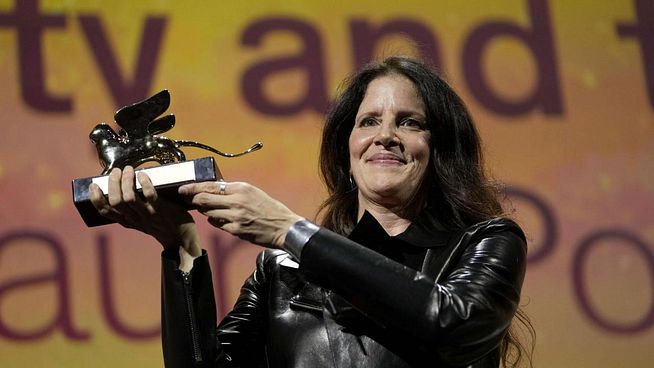 Bu sene 31 Ağustos – 10 Eylül tarihleri arasında düzenlenen dünyanın en köklü film festivali 79. Venedik Film Festivali sona erdi. Prestijli "Altın Aslan" ödülü için süren yarışın kazananları belli oldu. Don't Worry Darling'in magazinsel olarak önce çıktığı festival Palazzo del Cinema'da sona erdi.Julianne Moore'un başkanlık ettiği jüride Mariano Cohn, Leonardo di Costanzo, Audrey Diwan, Leila Hatami, Kazuo Ishiguro ve Rodrigo Sorogoyen yer aldı. 
Altın Aslan'ı All the Beauty and the Bloodshed isimli belgeseliyle Laura Poitras alırken, İtalyan yönetmen Luca Guadagnino da Bones And All filmiyle 'En İyi Yönetmen' ödülünü aldı. Avusturalyalı oyuncu Cate Blanchett, Tar filmindeki rolüyle "En İyi Kadın Oyuncu" ödülünü kucaklarken, "En İyi Erkek Oyuncu Ödülü" beklendiği gibi Brendan Fraser'a değil, The Banshees of Inisherin filmindeki rolüyle Colin Farrel'a gitti. Bu ödül de, Oscar yarışında ortalığın kızışacağını kesinleştirmiş oldu.
Festivalin tüm kazananları ise şöyle;
Altın Aslan: All the Beauty and the Bloodshed, Laura Poitras
Jüri Büyük Ödülü: Saint Omer, Alice Diop
En İyi Yönetmen: Bones and All, Luca Guadagnino
Jüri Özel Ödülü: No Bears, Jafar Panahi
En İyi Senaryo: The Banshees of Inisherin, Martin McDonagh
En İyi Kadın Oyuncu: Tár, Cate Blanchett
En İyi Erkek Oyuncu: The Banshees of Inisherin, Colin Farrell
En İyi Genç Oyuncu: Bones and All, Taylor Russell
Orizzonti 
En İyi Film: World War III, Houman Seyyedi
En İyi Yönetmen: Vera, Tizza Covi and Rainer Frimmel
Jüri Özel Ödülü: Bread and Salt, Damian Kocur
En İyi Kadın Oyuncu: Vera, Vera Gemma
En İyi Erkek Oyuncu: World War III, Mohsen Tanabandeh
En İyi Senaryo: Blanquita, Fernando Guzzoni
En İyi Kısa Film: Snow in September, Lkhagvadulam Purev-Ochir
0
Mutlu
0
Üzgün
0
Sinirli
0
Şaşırmış
0
Virüslü
79. Venedik Film Festivali'nde Kazananlar Belli Oldu – Haberler
# Belli
# Festivalinde
# Film
# Haberler
# Kazananlar
# oldu
# Venedik